Aluminum alloy plate as the base material: The company selects 3003H24, 5005H24 single-layer aluminum alloy plate as the base material, and its thickness is 2.0mm, 2.5mm, 3.0mm, 3.5mm, 4.0mm, 4.5mm, 5.0mm, etc. ,The maximum size of formed aluminum plate can reach 2400x6000mm.
Specifications:
Substrate size: thickness 2.0mm, 2.5mm, 3.0mm, 4.0mm, 5.0mm, 6.0mm
Width 1000mm-1900mm Length≤6000mm
The conventional size of the finished product: the processing length is less than 6000mm, the width is less than 1500mm, and the height is less than 1.9mm.
Special version size: conventional arc plate forming radius ≥150mm, special mold opening
The punching hole diameter of the punching plate is less than or equal to 80mm. The hole shape, size and spacing can be customized according to customer requirements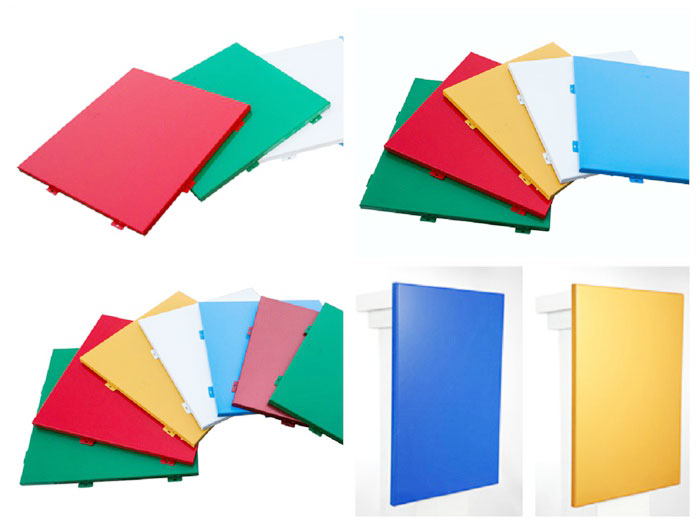 Features of nano ceramic aluminum panel:
1. New green environmental protection materials
It does not produce any toxic smell or gas, is harmless to the environment and human body, non-toxic, non-polluting, and has high safety performance.
2. Inorganic Nano Materials
Using nano-inorganic resin as the main base material, selecting high-hardness and strong abrasion resistance of nano-metal oxides, silicon dioxide, high weather-resistant inorganic pigments, processed and formulated through a special process, after coating on the aluminum substrate surface, A kind of inorganic ceramic coating is formed, reaching the nano material level.
3. Physical and chemical properties
High hardness (normal temperature hardness 6-9H), high wear resistance (wear resistance> 20000 times)
4. Chemical properties
High strength acid, alkali, salt, solvent, corrosion resistance
5. Ultra-long service life, ultra-long weather resistance
It has long-lasting chromaticity, anti-chalking, anti-aging, extra-long weather resistance (50 years), anti-air pollution
6. High self-cleaning performance
It eliminates static electricity, is non-stick, and is not easy to generate static dust. It is naturally washed and purified by rainwater to keep the facade of the curtain wall clean, save the cost of curtain wall cleaning, and is highly self-cleaning.
7. Class A1 fire performance
High temperature resistance> 600℃, non-combustibility, A1 fire resistance.
8. The third-generation curtain wall aluminum plate
Nano-ceramic aluminum panels have application performance beyond fluorocarbon aluminum panels. They are called "third-generation curtain wall aluminum panels" and are one of the preferred materials for owners and designers.
Scope of application:
Nano ceramic aluminum panels are widely used in subway, high-speed rail, light rail station hall and platform decoration, office buildings, shopping malls, hotels, hospitals, stations, stadiums, exhibition halls, airports and other buildings indoor and outdoor decoration, building curtain walls, and comply with environmental protection and fire protection requirements .