Material and structure
Fluorocarbon sprayed aluminum panel is made of high-quality high-strength aluminum alloy plate, its usual thickness is 2.0mm, 2.5mm, 3.0mm, model is 3003, and status is H24. Its structure is mainly composed of panels, stiffeners and corners. The corner code can be directly formed by bending and punching the panel, or riveting the corner code on the folding edge of the panel. The reinforcement ribs are connected with the electric welding screws behind the board surface to make it a solid whole, which greatly enhances the strength and rigidity of the aluminum veneer curtain wall, and ensures the flatness, wind and earthquake resistance in long-term use. If sound insulation is required, efficient sound insulation and heat insulation materials can be installed inside the aluminum plate.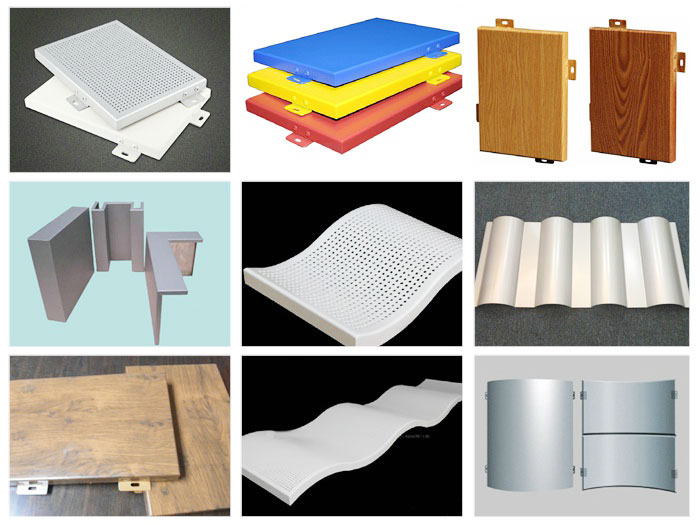 Surface treatment
The surface of fluorocarbon sprayed aluminum panel is generally treated with fluorocarbon spraying after pretreatment such as chromization. Polyvinylidene fluoride resin (KAHAR500) for fluorocarbon paint topcoat and varnish. Generally divided into two coatings, three coatings or four coatings. Fluorocarbon coating has excellent corrosion resistance and weather resistance, can resist acid rain, salt spray and various air pollutants, has excellent resistance to cold and heat, can resist strong ultraviolet radiation, and can keep long-term without fading and chalking ,long lasting. Our factory chooses high-quality fluorocarbon coatings from world-renowned fluorocarbon coating manufacturers such as PPG, DNT, AKZO, NIPPOH, etc., with a wide range of colors. Customers can directly select or provide color samples according to the color palette provided by the manufacturer.
Features
Fluorocarbon sprayed aluminum panel is light in weight, high in strength, waterproof, antifouling, fireproof, corrosion resistant, good processing performance, low maintenance cost and long service life. The aluminum curtain wall veneer is processed into arcs and special shapes, and the surface can be sprayed into a variety of colors, forming various beautiful patterns on the wall, and can be combined with glass curtain walls to form different appearance shapes, making the building more noble and elegant style.
Application scope
Fluorocarbon sprayed aluminum panel is suitable for the decoration of various building interior and exterior walls, lobby facades, pillar decorations, elevated corridors, pedestrian bridges, elevator edging, balcony packaging, advertising signs, indoor special-shaped ceilings, etc.