At present, Stone honeycomb panels can be basically divided into stone aluminum honeycomb panels, stone steel honeycomb panels, stone glass brazing honeycomb panels and so on. The thickness of the decorative stone of the stone honeycomb panel is generally 3mm~5mm for the matte surface and mirror panel, and 5mm~8mm for the thick panel. The thickness of the honeycomb panel can be determined according to different uses and design requirements. When used as exterior wall panels, the thickness is usually above 15mm. Due to the reduction in the thickness of the facing stone and the honeycomb panel structure itself has the advantages of light weight, high strength, and good rigidity, the stone honeycomb panel has the surface effect of a stone, but also has the performance that ordinary stone cannot have.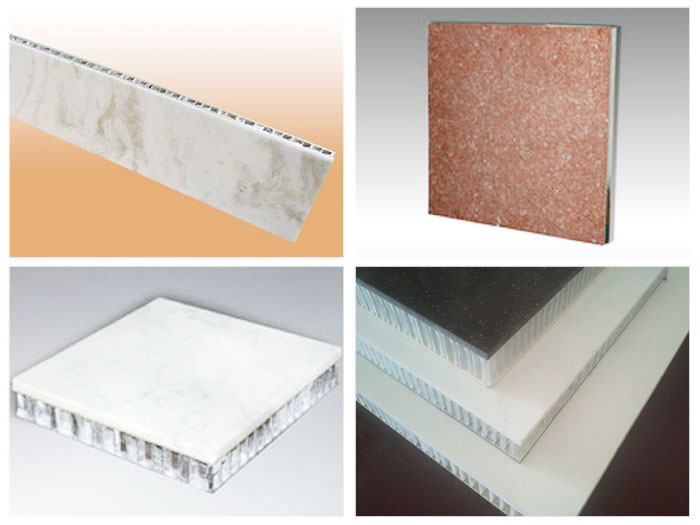 Stone honeycomb panel has the following advantages:
A) Light weight: The average weight of stone honeycomb panel is about 16kg/m2, which is almost 80% lighter than solid stone of the same thickness. This weight reduction can greatly reduce the weight load of the building, reduce labor intensity, and save construction costs.
B) High strength: high mechanical properties such as plane tensile, interlayer shear, and bending stiffness. In terms of resistance to deformation and impact, the impact strength of 20mm stone honeycomb panels is about 10 times that of 30mm thick stone.
C) Good safety: After being bent and deformed by strong impact or overload, the surface of the stone is only partially cracked, and no radiation cracks will occur, and it will not crack or fall off as a whole.
D) Simple processing: ordinary processing tools can be used to cut and install the shaped products that need to be trimmed on site, which can be made into various types of shapes with smooth lines and beautiful appearance.
e) Economical and beautiful: According to construction needs, you can choose any domestic and foreign stone fabrics, especially low-strength, scarce varieties of stone for compounding, which can maintain the main performance indicators of natural stone, increase the durability, and greatly improve the stone Utilization rate, saving natural resources.
Stone honeycomb panel overcomes the shortcomings of heavy weight, low strength and high brittleness of traditional stone. After years of development and application, Stone honeycomb panel has become an important green and new composite building decoration material. At present, stone honeycomb panels have not only been used for interior and exterior architectural decoration, but also applied to furniture, elevators, vehicles and ships.
Item
Parameters
Total Thickness
≥10mm
Surface
Material: marble, granite, travertine, etc.
Thickness:≥5mm
Honeycomb
Panel: Aluminum alloy plate Thickness ≥0.7mm
Core material: aluminum honeycomb core Specification: 6×0.06mm
Back plate: aluminum alloy plate, thickness ≥0.7mm
Size
Specifications: 600×600mm, 600×1200mm, etc.
It can also be customized according to customer needs.
Binder
Two-component high temperature curing polyurethane adhesive
Fire performance
A2(GB8624-2012)